I fan del regista Alex Garland hanno molto da aspettarsi.
Dopo aver realizzato moderni classici della fantascienza come Ex Machina e Annihilation, Garland sta attualmente girando un film d'azione di fantascienza chiamato Civil War e il 20 maggio il film horror folk di Garland, Men uscirà nei cinema ma solo negli USA; in streaming arriverà sulle principali piattaforme qualche mese dopo l'uscita in sala.
In Italia Men non ha ancora una distribuzione.
Mentre Men può sembrare un cambio di ritmo rispetto ad alcuni degli altri film più futuristici che Garland ha scritto o diretto, questo film affronta molti degli stessi temi che ha esplorato nelle sue altre opere.
Parlando con Entertainment Weekly, Garland ha notato che Men si occupa direttamente di temi come il genere e la colpa dell'essere un sopravvissuto, che erano sottotesto nei suoi lavori precedenti.
Men – Film (2022): data di uscita, cast, trailer
Men segue Harper Marlowe, una giovane vedova, mentre va in una tranquilla vacanza in un pittoresco villaggio dopo la morte per suicidio del marito.
La vacanza si trasforma in un incubo quando Harper inizia a sentire di essere perseguitata, o forse perseguitata.
Si descrive il film come:
"Quello che inizia come un terrore bollente diventa un incubo completamente formato, abitato dai suoi ricordi e paure più oscuri",
In un'intervista con Entertainment Weekly, lo scrittore e regista Alex Garland ha descritto il film come:
"Un film gentile a volte, c'è un sacco di umorismo sciocco lì dentro, ma è anche un po 'delinquente."
Ha notato che il film era più "aggressivo" e "a livello di pancia" rispetto a molti altri suoi film.
Il direttore della fotografia maschile ha descritto il film come "davvero straordinario e rassicurantemente strano".
Tutto ciò suggerisce che gli spettatori saranno in una corsa piuttosto forte quando Men arriverà nelle principali piattaforme in streaming.
Per chi non ha familiarità con questo regista, vogliamo rammentarvi che il film The Beach con Leonardo DiCaprio è basato su un romanzo scritto da Garland, e anche i fan dei videogiochi potrebbero avere familiarità con il lavoro di Garland, dato che è stato supervisore della storia per DmC: Devil May Cry del 2013.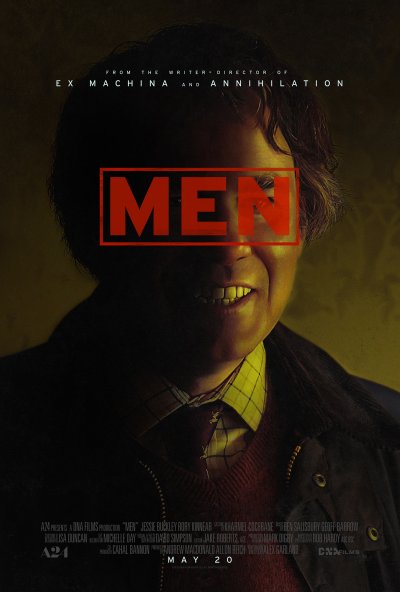 Men – Film (2022): trama e cast
Men vede Jessie Buckley nel ruolo di Harper Marlowe. Buckley, una recente attrice nominata all'Oscar, è stata in film come The Lost Daughter e Wild Rose ed è apparsa in serie televisive come Fargo e Chernobyl.
Ha anche interpretato la protagonista femminile nel thriller oscuro e surreale di Charlie Kaufman I'm Thinking of Ending Things, un altro film che trattava di genere, morte e memoria.
Anche Rory Kinnear, che potresti riconoscere come il capitano Nigel Badminton in Our Flag Means Death, recita. Potresti anche ricordare Kinnear come Bill Tanner nei recenti film di Bond o come il Primo Ministro nel primo episodio orribilmente memorabile di Black Mirror, "National Anthem".
Paapa Essiedu, meglio conosciuto per il suo lavoro nominato agli Emmy in I May Destroy You, interpreta il defunto marito di Harper, James. Essiedu ha interpretato il ruolo del sergente Campbell in Assassinio sull'Orient Express del 2017.