Le star di Game of Thrones e della Marvel si uniscono in un nuovo film: Peter Dinklage è Cyrano de Bergerac.
Peter Dinklage di Game of Thrones è al centro della scena nel primo trailer del musical Cyrano: un adattamento della commedia di Edmond Rostand del 1897 Cyrano de Bergerac.
Diretto da Joe Wright, che ha guidato Gary Oldman verso il suo primo Oscar conDarkest Hour tre anni fa, lLa star di Captain Marvel Ben Mendelsohn interpreta il personaggio di De Guiche, mentre Haley Bennett (The Devil All the Time) è Roxanne e Kelvin Harrison Jr (12 anni schiavo) è Christian.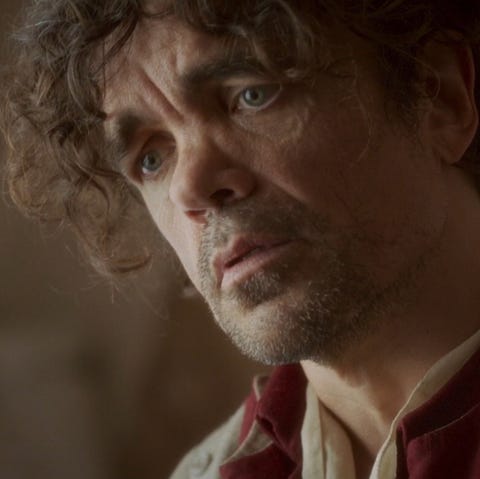 Cyrano quando esce al cinema?
Cyranoarriverà nei cinema a Capodanno (31 dicembre) negli Stati Uniti e il 14 gennaio in Europa.
"Troppo cosciente di sé per corteggiare Roxanne stessa, il wordsmith Cyrano de Bergerac aiuta il giovane Christian a colpire il cuore della bella ragazza, attraverso lettere d'amore", si legge in una sinossi ufficiale.
A giudicare dal filmato disponibile del trailer , c'è un'enorme portata romantica nel film, enfatizzata da bellissimi numeri musicali e scenari.
Cyranoè stato presentato in anteprima al Telluride Film Festival il mese scorso, quindi c'è già una selezione di recensioni online da scorrere e leggere.
Su un Magazine inglese troviamo scritto: "Con le sue telecamere in picchiata e il design di produzione oltre l'abbagliante, lo stile di Wright è più vivo che mai, dando un nuovo significato alla parola 'brio'.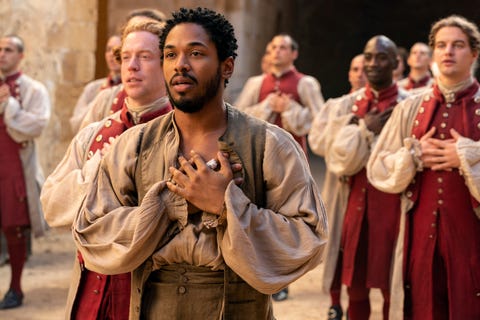 "Hollywood potrebbe essere stata lenta a riconoscerlo, ma Dinklage merita davvero lo status di protagonista, e mentre la sua voce come cantante lascia a desiderare, la sceneggiatura su misura di Erica Schmidt gioca su molti dei punti di forza unici della star".
L'Hollywood Reporter ha aggiunto: "I risultati tecnici di Wright meritano di essere salutati. Ha girato l'intero film in Sicilia, e le scene e i costumi sono sbalorditivi.
"Forse il risultato visivo più sorprendente risiede nelle scene di battaglia invernali girate sull'imponente sfondo dell'Etna. Queste vignette devono essere classificate tra le scene di guerra più vivide mai girate".
Cyrano Trailer
Peter Dinklage è Cyrano
La stardi Game of ThronesPeter Dinklagenon è estraneo a recitare in adattamenti, ma il suo ultimo ruolo cinematografico è un'incredibile scoperta.
Mentre iniziano i lavori sul nuovo prequeldi Game of Thrones– e i fan si preparano a inaugurare una nuova era del mondo di George RR Martin – Peter Dinklage è stato impegnato a girare l'ultimo adattamento della commedia Cyrano de Bergerac di Edmond Rostand del 1897.
Il prossimo film allora, diretto da Joe Wright (di Espiazione) e scritto da Erica Schmidt, è basato sull'omonimo musical teatrale di Schmidt e ri-racconta la storia diCyrano de Bergeraccon Dinklage come protagonista.
Interpretato anche da Haley Bennett diLa ragazza del treno, Kelvin Harrison Jr di12 anni schiavo, Bashir Salahuddin e Ben Mendelsohn,Cyranoè una classica storia d'amore non corrisposta.